Enter your email below to get the brochure

FutureClassTM is Silversea Media's comprehensive education system that consists of a full solution set, such as a cloud-based teaching management platform, student VR headsets, an extensive interactive STEM-based VR courseware and 3D and 360° panoramic resources.










STEM-Oriented Content Library
Silversea Media's FutureClasTM STEM-oriented content library consists of a VR interactive courseware as well as 3D models and 360° panoramic resources – all designed to help improve engagement and increase student knowledge retention.
Powerful Cloud-Base Teaching Management Platform
FutureClassTM makes it easy for teachers to have full control of the classroom and conduct the teaching process effectively, while still making class entertaining for student.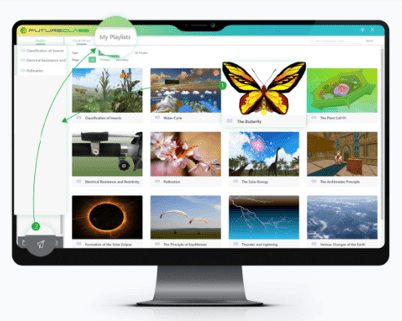 Create And Save Teaching Materials
Teachers can easily create teaching material and save it as playlist for each individual classroom. Open the platform, drag & drop the teaching materials, and they're automatically saved.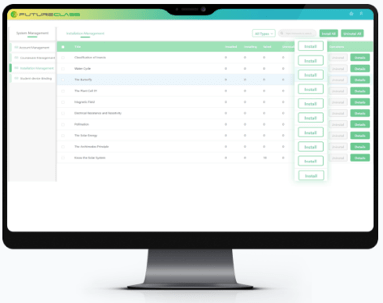 Cloud-based Teaching Resources Management
Teachers can download selected material from our cloud library. Our platform also supports uploading of personal content to complement our cloud standard resource library
Real Time Monitoring and Control System
Our platform allows teachers to simultaneously monitor all of the device in whole classroom and view the specific screen of any individual device.